Breaking the Stereotype:
The Benefits of having more Male Educators in the Early Years Sector
John began his career working in retail sales and customer service, moving into visual merchandising manager, and then working at a tailoring business. It was not until John met a child with a troubled family life that his passion for Early Childhood Education was realised. "Some years ago I had the responsibility of caring for a child with a troubled family life," John explains, "he was very negative about relationships and I needed to learn skills to help him. Unfortunately, I struggled to find the information we both needed, and after he moved out to start his own life I decided I needed to do something to help other children with similar circumstances." 
It was through this experience that John noticed the work he was doing wasn't fulfilling and he needed to make a change. "I no longer found satisfaction with the work I was doing and wanted to do something that really mattered," John says.
WHAT IS SO UNIQUE ABOUT JOHN'S WORK?
Now, John is working in an industry he is passionate about as an Early Childhood Educator while also running his own creative therapy business. John maintains a love for creative arts and uses creativity to communicate and engage with children. Although the unique benefits of creativity is a focus for John, he believes there are a few core skills that are important in Early Childhood Education and Care. "The most important skills would be to listen, to be patient, and know how to relax," John explains. "Give the children the time they need to respond or to feel comfortable with you and understand that the children need time to grow emotionally…"
Another unique aspect of John's role is being able to make a difference in children's lives every day and having success in the small moments of gratitude along the way. 
"A child who smiles, a family saying thank you, finding a way to communicate with a child who is not able to communicate effectively," John says, are some of the ways he measures his success in his role. "There are days that you know you have made a difference and even though you are exhausted, you have an overwhelming amount of pride," he says.
THE ROLE OF MALE EDUCATORS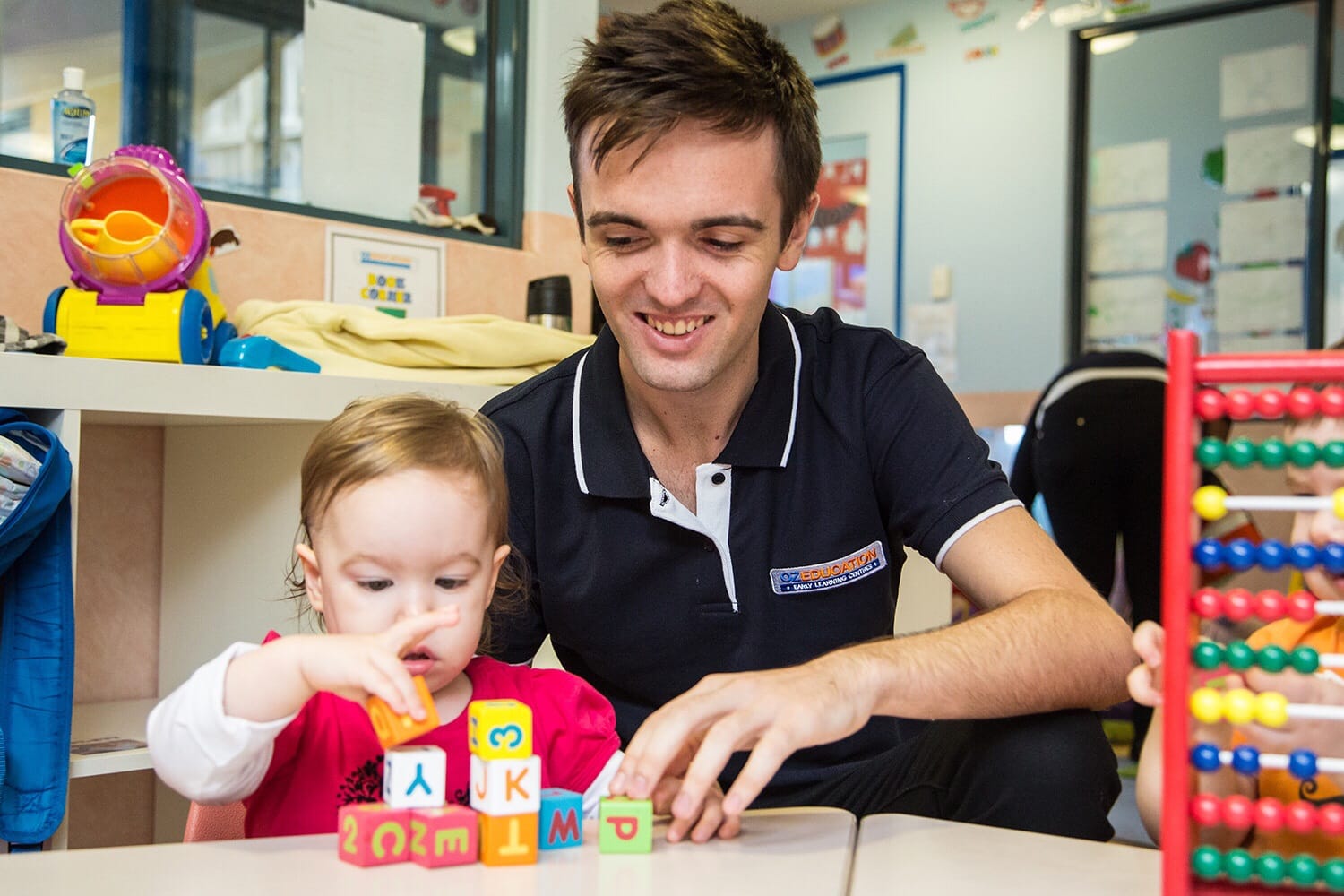 There has been a lack of research about male educators working in early education but according to a 2007 publication by the National Childcare Accreditation Council, male educators can be a valuable resource for childcare services. The research notes that it is vital to "recognise the importance of promoting and encouraging positive gender behaviours and modelling to girls and boys." 
Early childhood services are representatives of their communities and the broader society. Children and their families reflect many aspects of humanity, which include culture, religion, language, additional needs and gender. John does not believe early childhood education is a role for a specific gender. Raising children is the responsibility of everyone and it is important for children to see male educators in caregiving roles. "It takes many people in a child's life to give them a well-rounded perspective on the world they live in," John says of the diversity in early childhood education and care roles. 
The National Childcare Accreditation Council research notes "if childcare and early education remain completely female dominated, children lose out on the contribution men can make and men lose out on a fulfilling career."
Males educators have a role to play to provide a unique perspective for some children, John explains. "Depending upon the child's family life, they may not have many or any positive male role models, so it is good for children to see men cooking, cleaning, caring for and engaging with children," he says.
WHY BECOME AN EARLY CHILDHOOD EDUCATOR?
John has a short answer for this question: "Why not work with children? They are amazing!"
Friends often ask John why he was drawn to a career that is traditionally led by women, and the answer is very simple for him: "I make a positive contribution to the lives of so many children and they contribute to mine. I have grown as an individual and learnt things I could have never have dreamed of," he says.
These rewards should be accessible to everyone and having worked with some amazing men in early childhood education roles, John has witnessed the different skills they bring to help the children in their care.  "I would ask others to reflect on their own lives and remember the positive male role models they had and how good it was for them," John says. 
MORE MALE EDUCATORS ARE NEEDED
Whether you are a builder, mechanic, artist, musician, or office worker, whatever your background is, early childhood education needs people from all walks of life! Male educators play an important role in the lives of children in their early years and there are many rewarding moments. 
"I can't believe how lucky I am to be working in this industry," John says. "I feel that every day is an adventure that I get to live through the eyes of the children."
If you are interested in exploring a career change into Early Childhood Education and Care but not sure where to start, bestchance Training can help.
Find out more about the flexible training options available and the positive outcomes for our graduates. Click here to find out more or call us on 1300 224 644.