Protect little noggins: Helmet tips for parents and carers
With activities increasing post-lockdown and the weather warming up, children are going to be spending a lot more time outside, and that means bicycles, roller skates, scooters and whatever else your youngest sees their older sibling riding and asks 'can I have one too?'  
The most important item children are going to need this summer is protection for their heads, and we have searched far and wide for the most important information parents and carers need when purchasing the perfect helmet. We are dedicated to bringing you the right information so you can rest easy knowing your children can play safe and be protected while having fun. We have also included 5 helmet options, from the online stores to your local shops.   
Cyclists, bicycle passengers and scooter riders need to wear a securely fitted and fastened helmet. According to Medibank, wearing a bicycle helmet can reduce the risk of head injuries by 69%, and of serious brain injury by up to 74%. 
This means that wearing a helmet is one of the most important things you can do to protect your little one's rapidly developing brain. But before we look at the top 5 helmet options, we've listed some of the features you might like to keep in mind when searching for the best helmet for your toddler, preschooler or school-aged child.
WHAT DO WE LOOK FOR IN A HELMET?
Australian Standards 
 According to VicRoads road safety information, when purchasing a helmet it is important to make sure it complies with the Australian and New Zealand Standard AS/NZS 2063. Check for the standards sticker on the helmet showing it is safety approved and meets the Australian Standard AS 2063, AS/NZS 2063. 
The right fit 
The correct size makes all the difference, and a well-fitted helmet should sit firmly on top of your child's head. It should be comfortable and not move when shaking the head from side to side. When purchasing, look out for helmets with adjustable straps so you can adjust it to fit perfectly and it will cater to your fast-growing little human.  
Lightweight design and construction 
According to Healthline 'toddler necks are already doing a lot of work supporting their disproportionately large heads, so you don't want the helmet to add unnecessary weight'. Adequate ventilation is also a good feature to think about when looking at the construction of a helmet. Riding or scooting around the neighbourhood is hard work and children tend to get quite sweaty around the head, especially in the warmer months. Keep an eye out for a helmet with good ventilation to keep them as comfortable as possible.  
Comfortable lining 
Bike helmets come in two construction styles: in-mold and hard shell. If you have purchased your helmet from a store in Australia, both styles of helmet will provide adequate protection. You could also look for a soft and comfortable interior, which will provide some extra protection to a child's head. It also makes helmets more comfortable to wear, whether they're scooting, skating or riding. 
Now that you know what to look out for, here are our top 5 that meet all these prerequisites, so you can be assured that your little one's precious noggin will be safe as they speed around enjoying their new-found mode of transport.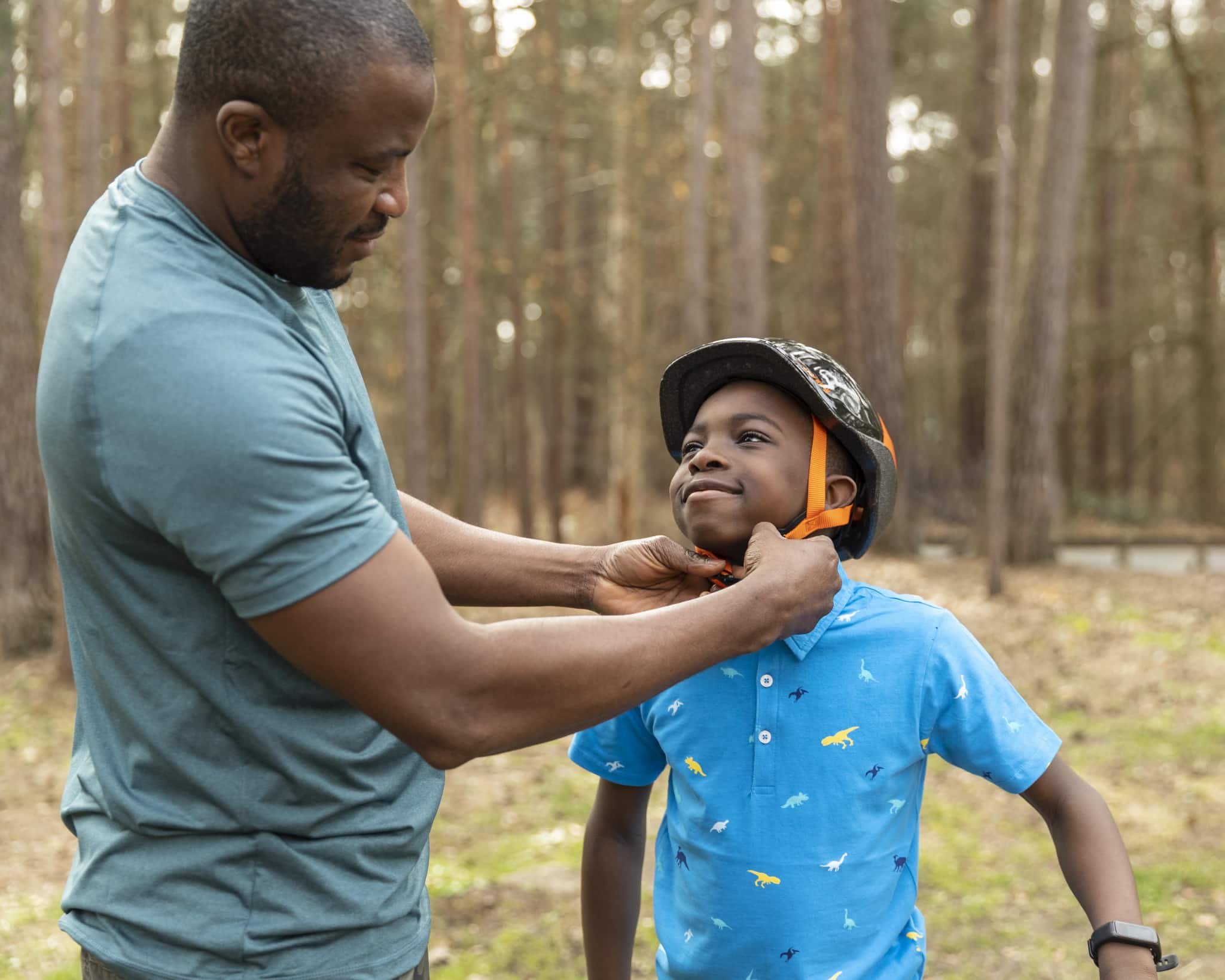 Goldcross helmets are in a good price range and are sold at Rebel Sport stores. At just $25, these helmets feature everything children need including internal padding, breathable vents and adjustable straps. They are also lightweight and adjustable to give your youngster a secure and custom fit, and they meet the Australian safety standards. Click here for the full range.  
From toddlers to school-aged children's helmets, these top-quality helmets are made in Australia especially for children. Although not the cheapest option, all Micro safety gear, including scooter helmets and elbow and knee pads, will keep the little ones safe for whatever they are doing. Click here to visit the online store. 
If you're looking for something on a lower price range but still high-quality, Decathlon has a great range of children's helmets to choose from, and best of all, we can now go to the store and try them on! Prices ranging from $18:00 right up to $69:00, you'll be sure to find a good helmet at the right price. Click here for the full range. 
Big W has a great range of helmets at a great price! When searching for the best helmet at Big W, think about those prerequisites about what makes a good helmet. Not all helmets are made the same and when there is such a wide range to choose from it can sometimes be difficult to choose the best one. Click here. 
If you are wanting to get a little bit fancier, then Banwood helmets are the one for you. Sold online, Banwood helmets are a classic design and made with high-quality material. They feature a protective inner foam lining, air vents in the front and back and easily adjustable straps. Although these helmets are in a higher price range ($69) they are high-quality and designed to last. Click here to visit the online store. 
It does not matter what your price range is, all helmets listed are designed for maximum protection and must meet the safety standards to be sold in Australia. For more information on the best helmets for children, check out the ACCC's product safety information on helmets or Vicroads helmet tips.