Bestchance volunteer making her mark
Bestchance volunteer Nadeeshani was thrilled to receive an Honourable Mention in the McArthur Early Childhood Volunteer of the Year Award in recognition of her significant contribution to kindergarten and early childhood education as a volunteer. Nadeeshani was nominated by the staff at bestchance's Dandenong Primary Kindergarten for her commitment and consistent contribution in such a short amount of time. She said her nomination was "very unexpected" and she is very grateful to bestchance Volunteer Coordinator Shweta for her support and the opportunity to follow her dream of a career in early childhood education. 
Nadeeshani migrated to Australia in 2019 to help support and care  for her brother's family, especially her two nieces and nephew. "I wanted to help my nephew because he has special needs," she explains as the reason for her move.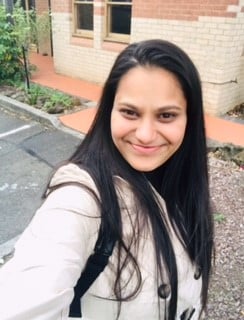 "As my brother is working full time, it is really hard for him to accompany my nephew to his hospital appointments," Nadeeshani explains, "so my sister-in-law takes him and I help look after my nieces who are alone at home". Nadeeshani is also studying early childhood education at bestchance, and wanted to give her spare time to helping children and families within her community
Nadeeshani has always had a passion for working with young children. She began her volunteering journey at Oakgrove Community Centre in Narre Warren south, where she helped set up their playgroup and kindergarten activities.
She joined Dandenong Primary Kindergarten in 2020. Nadeeshani instantly became a valued member of the group and a much appreciated volunteer. "The staff there are so supportive and I am always happy to help in any way that I can," she says, "even though sometimes I am very busy and find it hard to find the time myself, I still try my best to give some time to the kindergarten."
Nadeeshani connected with bestchance through free workshops and the family support team and is very grateful for the opportunity to volunteer. She said it has helped her realise her potential in the growing early childhood education sector. "I now know that because of these last two years and the support and opportunities I have received, I can do much more," she said. "English is my second language, and I have noticed how much it has been improving because I have been gaining a lot more experience." 
Nadeeshani also feels a great sense of gratitude to family, colleagues and bestchance Volunteer Coordinator Shweta. "I joined up with bestchance at one of the workshops and through that I was able to connect with Shweta," Nadeeshani explains. "She is the one who has given me so much support and time, always supporting us as volunteers so I always tried my best to join in the activities and help as much as I can." 
Here at bestchance, our volunteers represent the willingness of people to contribute to the care of families, children and communities and we are thrilled to celebrate volunteers like Nadeeshani! Not only was Nadeeshani nominated for her significant contribution as a volunteer but she has spent countless hours creating a lasting change in the lives of children by upskilling their individual strengths and goals. From all of us at bestchance, we would like to say a big thanks to Nadeeshani, and all our volunteers for the effort you put in to support children and families every day.
DOES VOLUNTEERING INTEREST YOU?
If this sounds like something you would be interested in, click here to join our community of volunteers and make a difference in your local area! In joining our volunteer program, we will work with you to find a role that suits your lifestyle, interests and skills, and it is the perfect opportunity to make a difference in the lives of children and families.